Posted by Ron on 1st Jul 2014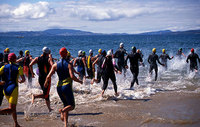 If you made a list on the most intense and harshest sports on the globe then a triathlon would definitely be on that list. A triathlon is a competition involving perpetual and persevering endurance contests. Meaning, a triathlon is simply a multi-level competition that commonly features contests in swimming, cycling, and running. It is an individual sports in which participants are competing for the greatest time. Originating from France in the early 1920s, this sport is certainly a unique one. The sport forces competitors to be in the best shape; whereas, their perseverance and endurance will be pushed to the extreme. However, the triathlon is formatted to different groups. To be exact, there is a race format called the Kids of Steel, which varies at the age of the kid athlete. A triathlon is a very popular sport, and in this article we will get further into the essence on a triathlon.
History
The triathlon began in the 1920s in France, but was called "Les trois sports" meaning "Three Sports". The race required competitors to cross the Marne Channel, finish a 12K bike ride, and complete a 1200 meter run. Although the sport was already being hosted in France, 1974 was the official birth date of modern day triathlon. On that day, the Mission Bay Triathlon was held in which 46 people participated. As the sport started to gain notoriety in the late 1970s, Hawaii had gotten a jump-start on the world hosting the Hawaii Ironman Triathlon in 1978. In 1982, ABC broadcasted the Hawaii Ironman Triathlon, in which 600 people participated. In 2006, that number increased drastically to 3000. Triathlon also made its first Olympic appearance in 2000. Those events sparked the revolution for triathlon, which continues to grow in participants every year.
Race Distances
As I mentioned, a triathlon is divided into many race formats. The most common is the Sprint Race. The Sprint Race requires participants to swim 750 meters, cycle 20 kilometers, and run 5 kilometers. This race is ideal to beginners, because the race involves less vigorous training and familiarity. Next is the Olympic triathlon, commonly known as the International Race. The International Race is more than double the distance of the Sprint Race, but it can still be referred to as "short course". Supplementary to the Sprint Race, competitors must swim 1.5 kilometers, cycle 40 kilometers, and run 10 kilometers. Nonetheless, there are still races that exceed Olympic requirements. First is the Half-Ironman race. Competitors participating in the Half-Ironman race must swim 1.93 kilometers, cycle 90 kilometers, and run 21.09 kilometers. This race sounds grueling and arduous enough to be a half of another race. The most intense triathlon race "present" is the Ironman Triathlon. The Iron Man Triathlon consists of a 3.86 kilometer swim, a 180 kilometer cycling distance, and a 42.2 kilometer marathon distance. There is always a level higher than another level, and that is where an Ultra-Triathlon fits in. An Ultra-Triathlon doesn`t have any specific distances. In fact, an Ultra Triathlon is considered to be any race being longer than an Ironman Triathlon.
Triathlon Locations, Eligibility, and Cost
Triathlons are present throughout and all over the world. They are featured in the Olympics, and they also have a place in local events. If you are looking to participate in a triathlon then your search is not going to be far. You can find triathlon events locally in your city and state. Besides the price to have triathlon training and the cost of equipment, the cost is free. Triathlons are also available to both sex groups. Anyone is eligible for a local triathlon, but as you may know, you have to become eligible to participate in the triathlon for the Olympics or any other USA functions.
Triathlon Training
Most triathlon training programs and trainers are going to cost you some big money. Still, it isn`t a bad thing for you to train yourself. There are many nutritional diets and exercise regiments available online to assist you, and most of them are free. However, for our over-achievers who want professional help, you should call around and inquire more on professional triathlon trainers online. After all, what better feeling is there than to receive your first place medallion?
Triathlon: Rules, Conditions, and Essential Gear
Every race and competition has rules, but the rules of triathlon vary differently according to its governing body. Nevertheless, there is still a common rule. In a triathlon, participants are forbidden to receive help from the outside, except for aid volunteers who distribute food and drinks. Also, participants must start when prompted. Other rules in various other triathlons are varied. Moreover, aid volunteers are spread throughout given points in a race to assist competitors. They give out food, water, energy drinks, fruits, and even cookies. Also, at the end of the race there are refreshments. There are many sorts of essential gear that a participant of a triathlon must have. The assorted gear comes as follows: bodyglide, swimsuits, wetsuits, goggles, ear plugs, bike, helmet, patch kit, spare tire, wrench set (tools), pump, tri shorts, fuel belt, water bottle, and warm clothing.
Triathlon is a sport that is gaining popularity every year. One of the benefits that draw competitors into the sport of triathlon is its overall fitness. It is true that triathlons help people gain and maintain a strong and healthy body. Some people claim that it even reduces stress levels. Whatever the case may be, triathlon is a popular worldwide sport that is continuously gaining participants as the world goes on.